AC Recharge Service in Chicago, IL
Your Comfort Matters: Expert AC Recharge Service in Chicago by Browns Heating & Cooling
There's no place like a cool and comfortable home on a hot summer day in Chicago. That's where Browns Heating & Cooling steps in, ensuring your peace of mind with our proficient AC Recharge Service in Chicago and surrounding areas.
Our commitment is to restore your home's comfort while efficiently resolving common problems like low Freon and refrigerator leaks.
A Company You Can Trust
Choosing a service provider isn't just about who can get the job done, but also about who can do it right. That's why at Browns Heating & Cooling, we've built our reputation as a trustworthy provider of HVAC services over many years. Our team comprises certified professionals who continually update their skills, knowledge, and understanding of industry trends and technologies, always aiming for excellence. Your trust in us is our most significant achievement.
The AC Recharge Service You Need
When your AC unit is low on refrigerant (often referred to as Freon), it can't keep your home cool as effectively. That's where our AC recharge service comes in. We professionally inspect your system, detect any leaks, and recharge your AC with the correct amount of refrigerant. This process ensures optimal performance of your cooling system and prevents potential long-term damages, bringing back the cool comfort you deserve.
Addressing Low Freon Issues
A decrease in the level of Freon can drastically affect your AC system's efficiency. At Browns Heating & Cooling, we provide expert services to address this issue. We examine your system to identify any potential leaks and properly recharge it. We use only top-quality Freon to ensure maximum cooling efficiency and longevity for your air conditioner.
Expertise in Handling Refrigerator Leaks
Refrigerator leaks can cause significant inconveniences and potential health risks if not addressed promptly. Our certified technicians have the necessary expertise to quickly and effectively handle these issues, safeguarding your comfort and health.

Why Choose Browns Heating & Cooling
Experience:
With years of experience under our belt, we have honed our skills to offer top-notch services that meet your unique needs. We combine our deep industry knowledge with advanced tools and techniques to provide unmatched AC recharge services in Chicago.
Quality:
Our commitment to quality ensures we never compromise on the caliber of our services. We use only high-quality refrigerants and parts, ensuring that our repairs and recharges are long-lasting and reliable.
Customer Service:
Your satisfaction is our priority. We are dedicated to providing you with exceptional customer service at every step, from your first call to post-service follow-ups. We listen, we understand, and we deliver.
Reliability:
We understand that HVAC issues can arise unexpectedly. That's why we offer swift and efficient services, ensuring your comfort isn't compromised. You can count on us to be there when you need us the most.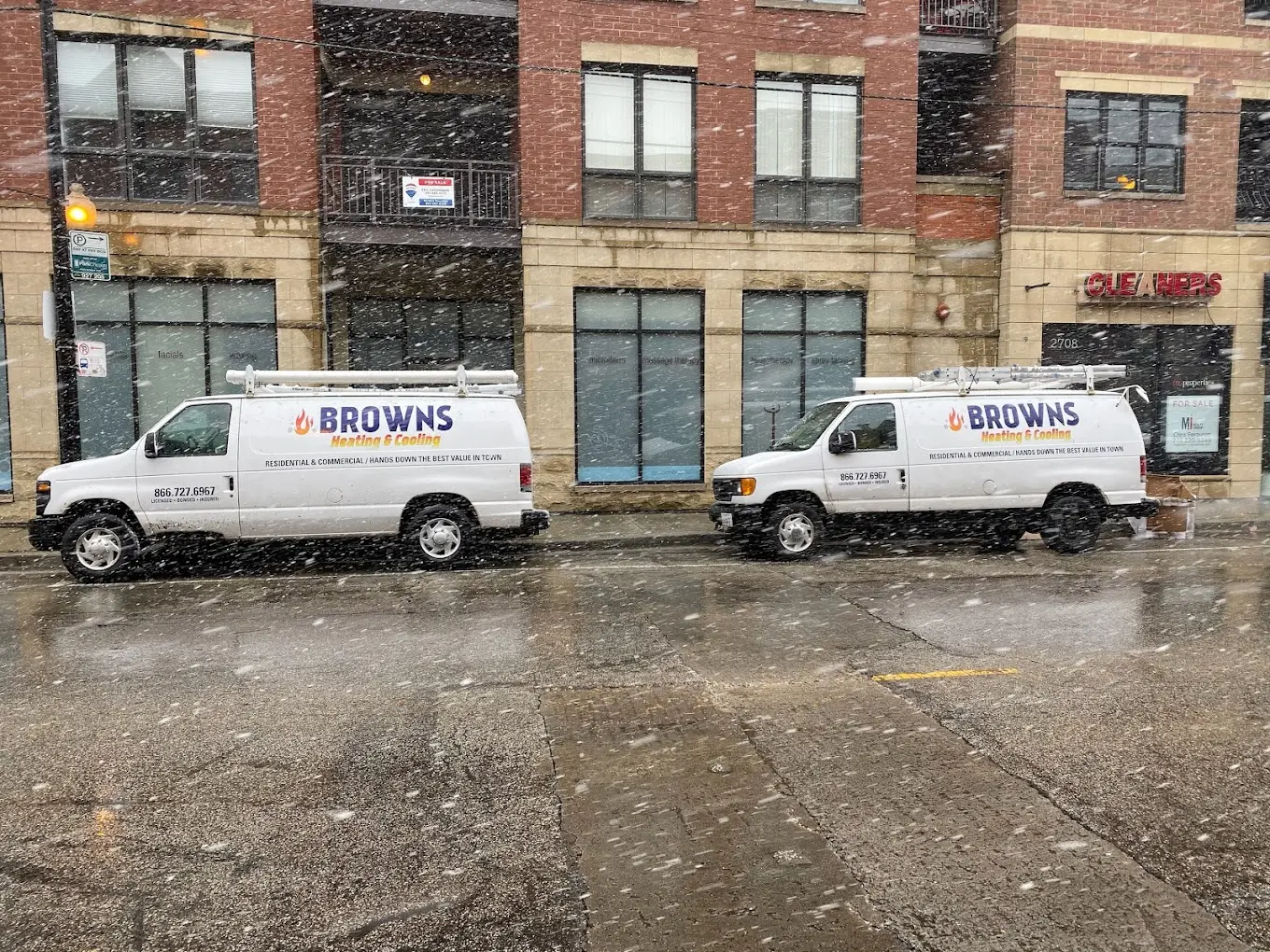 Invest in Your Comfort with Browns Heating & Cooling
At Browns Heating & Cooling, we believe in creating an environment that enhances your comfort and well-being.
Our professional AC Recharge Service in Chicago, coupled with our expertise in addressing low Freon issues and refrigerator leaks, ensures that you always have a reliable partner for all your HVAC needs.
We also offer a/c repair, a/c installation, and seasonal air conditioning maintenance.
Trust us with your comfort.
Contact Browns Heating & Cooling today, and let us bring back the cool comfort to your home.
What are the signs that I need an AC Recharge Service from Browns Heating & Cooling?
The primary signs that you might require an AC Recharge Service include a decrease in your air conditioning system's cooling capacity, longer cooling times, or the system blowing warm air. This could be due to low Freon levels, often caused by leaks in the system. At Browns Heating & Cooling, our skilled technicians can diagnose these problems and ensure your AC unit is recharged and operating efficiently.

How does low Freon affect my air conditioner, and how does Browns Heating & Cooling address this?
Low Freon levels can significantly reduce your air conditioner's cooling efficiency. It may lead to inadequate cooling, longer cycle times, and even damage the compressor. Browns Heating & Cooling handles this issue through a thorough system inspection to detect any potential leaks, followed by properly recharging the system with high-quality Freon to restore its cooling efficiency.
I'm dealing with a refrigerator leak. Can Browns Heating & Cooling help me?
Absolutely, Browns Heating & Cooling isn't limited to air conditioner services. Our team is adept at handling refrigerator leaks too, which can cause significant inconveniences and even potential health risks if left unchecked. Our certified technicians can promptly and effectively address these issues, ensuring your appliance is back to its best condition in no time.
What types of refrigerants does Browns Heating & Cooling use for AC recharge, and what are the costs?
Browns Heating & Cooling primarily uses two types of refrigerants for AC recharge – R22 and R410. The cost for these refrigerants varies due to their different properties. R22 is more expensive at $295 per pound as it's being phased out. On the other hand, R410 is slightly less costly, ranging between $195-$225 per pound. Each AC system requires different amounts of refrigerant. Rest assured, our professionals will ensure your system gets the right amount for optimal performance.
Why is R22 more expensive than R410?
The price difference between R22 and R410 is primarily due to the fact that R22 is being phased out due to environmental concerns. This has led to a reduction in its production and, in turn, has increased its cost. Despite being more expensive, it's still necessary for some older AC systems that aren't compatible with other refrigerants. Our experts will evaluate your system and use the appropriate refrigerant to ensure optimal cooling efficiency.
Can Browns Heating & Cooling help if I'm unsure about which type of refrigerant my AC system uses?
Definitely. At Browns Heating & Cooling, our certified technicians have the expertise to determine the correct type of refrigerant for your AC system. They will inspect your unit, identify the right refrigerant, and then recharge the system accordingly. This ensures your system operates at its maximum efficiency, and you get the comfort you deserve.