Brown Heating & Cooling: Your Local Specialist for Heat Pump Services in Chicago, IL
When it comes to providing dependable, efficient, and trustworthy Heat Pump Services in Chicago, Brown Heating & Cooling stands out as the first choice for homeowners and businesses alike. We leverage our extensive experience, technical expertise, and commitment to superior customer service to ensure your heating and cooling systems operate at peak performance.
Why Choose Brown Heating & Cooling?
Selecting the right service provider for your heat pump system is crucial. Brown Heating & Cooling provides a team of highly skilled, certified professionals who understand the nuances of your system. We've built our reputation on transparency, honesty, and dedication to customer satisfaction. Plus, we offer free estimates for replacement services!
Innovative and Comprehensive Heat Pump Services
Our wide range of services is designed to cater to every heat pump need, no matter how big or small.
Professional Heat Pump Installation
We ensure precise heat pump installation using state-of-the-art tools and equipment to maximize your heat pump's lifespan and performance. Our knowledgeable team will guide you through every step, ensuring you understand your system's functionalities.
Efficient Heat Pump Repair
Heat pump breakdowns can cause significant discomfort. Our qualified team offers prompt Heat Pump repair services, identifying the issue quickly and delivering effective solutions to restore comfort to your home or office.
Expert Heat Pump Replacement
When your heat pump reaches the end of its lifespan or requires frequent costly repairs, we can help with seamless Heat Pump replacements. We guide you in choosing the right model and ensure its proper installation. Remember, we provide free estimates for this service.
Proactive Heat Pump Maintenance
A well-maintained heat pump runs more efficiently and lasts longer. Our comprehensive maintenance services include regular check-ups and routine repairs to prevent minor issues from turning into major problems.
The Brown Heating & Cooling Advantage
Not only do we offer a diverse range of quality heat pump services, but we also take pride in our swift response times, competitive pricing, and a clear, jargon-free approach. As a locally operated business, we value our Chicago community and aim to provide heat pump solutions that suit your individual needs and budget.
Book Your Service Today!
Take the first step towards a more comfortable, energy-efficient home or office with Brown Heating & Cooling's expert Heat Pump Services in Chicago. Book a service with us today and experience the difference of working with professionals who genuinely care about your comfort and satisfaction.
Embrace the warmth of great service, reliability, and expertise with Brown Heating & Cooling. We're always here to help when you need us the most.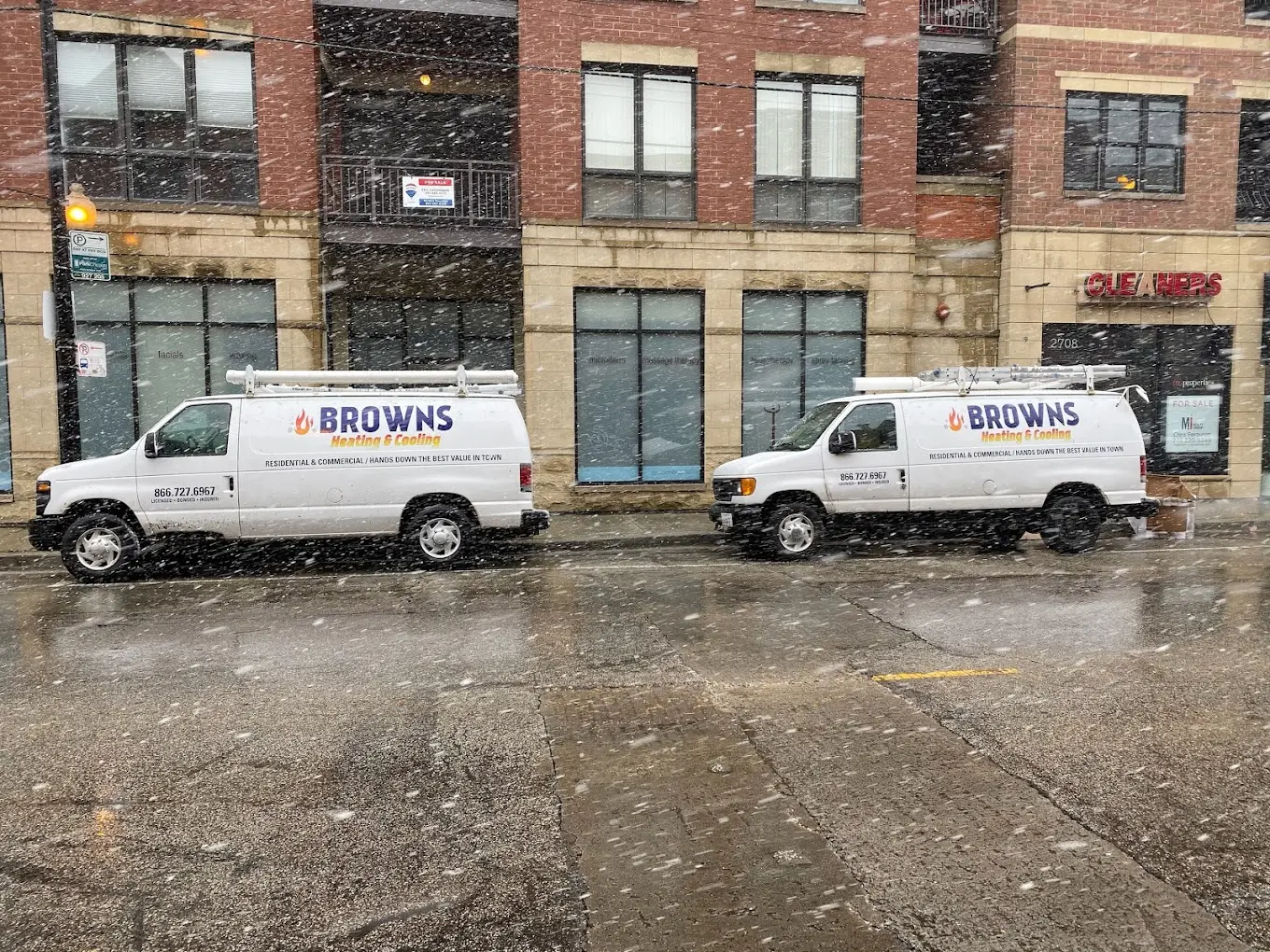 How often should I service my heat pump in Chicago?
At Brown Heating & Cooling, we recommend servicing your heat pump at least once a year to ensure its optimal performance and longevity. However, factors such as your system's age, usage patterns, and the specific climate conditions of Chicago may necessitate more frequent maintenance. Regular service helps identify potential issues early, reducing the risk of costly repairs or replacements.
Can Brown Heating & Cooling help with emergency heat pump repairs?
Absolutely! We understand that heat pump problems can arise unexpectedly, causing considerable discomfort, especially during Chicago's harsh winters or hot summers. Our team is available for emergency heat pump repair services in Chicago. We're committed to restoring your comfort as swiftly and efficiently as possible.