Dependable Water Heater Service
Outstanding Hot Water Heater Service

At Browns Heating & Cooling, we want to be the AC service providers you turn to whenever your cooling system in Chicago and surrounding areas, isn't working properly. This Cook County city experiences hot and humid summer temperatures that require a functioning air conditioning system in homes. Our locally owned and operated company has been offering comprehensive air conditioning repair services in the area since 2016. We're EPA certified, and our technicians are factory trained. They'll have the skills to work on all makes and models of air conditioning systems.

We Are Known For:
✓ Flat-rate pricing
✓ Flexible financing with approved credit
✓ Factory-trained technicians
✓ 24/7 emergency repairs
✓ Guaranteed satisfaction
Working on water heaters can be tricky, so smart homeowners leave hot water heater service to professionals. Our company may even be able to fix your water heater the very same day we get your service call. We go out of our way to treat our clients like family because we want to build an ongoing relationship with our clients that leaves them feeling satisfied, knowing they've been taken care of by the best.
Great Services For Water Heaters
There are many reasons why you may need hot water heater service.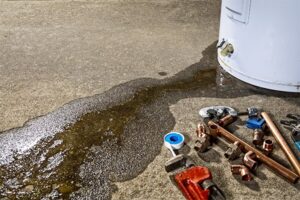 If you're not getting any hot water at all from your water heater, chances are the culprit is a malfunctioning pilot control valve or a defective heating element. Too little hot water may mean that your water heater's temperature settings aren't turned up high enough. Water heaters often make noises when the heating element needs to be replaced.
If the tank that supplies hot water to your Chicago and surrounding areas home or place of business is leaking, you'll want to contact Browns Heating & Cooling as soon as possible. A leaking water tank has the potential to flood your property. You may be looking at a tank replacement. We do water tank installations and provide tank maintenance services, too. Though we're an authorized Lennox dealer, our technicians are familiar with every water heater manufacturer makes and models.
We Understand Water Heaters
That problem you're having with your water heater is not going to go away by itself. Odds are that the longer you put off necessary hot water heater services, the higher your repair bill is going to be. Regular maintenance can help identify issues before they become serious and prevent them from resulting in high repair bills.
Before we begin any repair, installation or maintenance service, we'll make sure you have the opportunity to sign off on a detailed estimate. Browns Heating & Cooling services all parts of Chicago and surrounding areas and surrounding areas. Contact us today to find out more about the many services we offer and to schedule a service call with one of our experienced and courteous technicians