Emergency Maintenance In Chicago, IL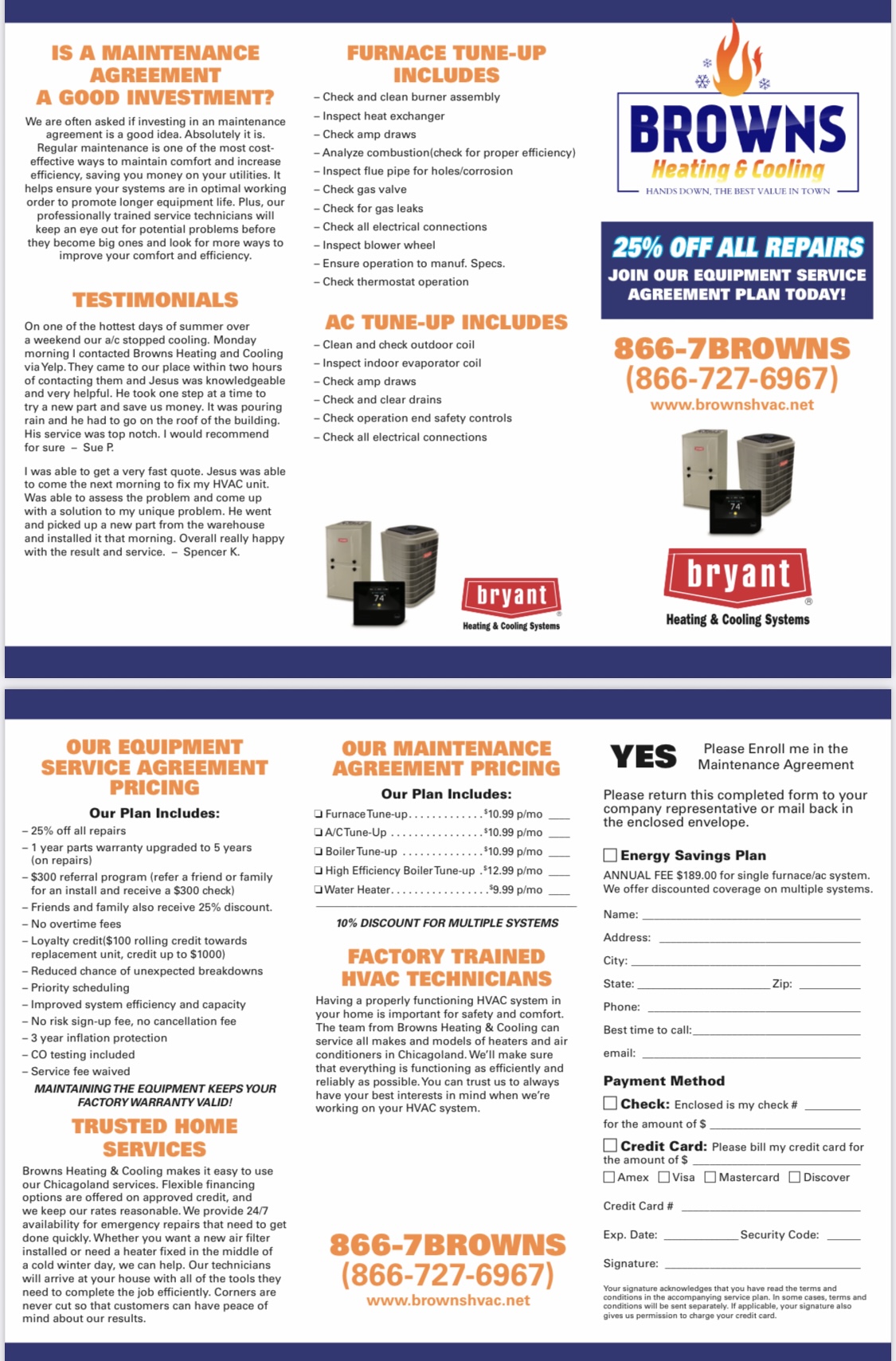 #1 Chicago Best HVAC Maintenance
At Browns Heating & Cooling, we aim to offer first-rate HVAC maintenance services in Chicago and surrounding areas. Having served the Cook County area since 2016, our team is vastly experienced and widely respected. We boast a skilled group of certified and licensed technicians. Our team can handle any maintenance task with aplomb and distinction. Whenever you need thorough heating maintenance in the Chicago area, our firm at Browns Heating & Cooling will take care of your needs. Let us prove that we're the right team to handle the job.
✓ Broadly Experienced Team 
✓ Certified and Trained Technicians
✓ Focus on customer satisfaction
Chicago

 Heating Maintenance Crew
As temperatures begin to drop during the winter, the last thing you need is a failing furnace. One way to ensure that your unit doesn't malfunction is to maintain it. At Browns Heating & Cooling, we offer top-grade HVAC maintenance solutions in the Chicago region. Our technicians are well-equipped to get your heating system running promptly. We aim to eliminate all hitches early before they turn to expensive repairs. You can depend on our technicians to pay attention to every detail. Whether it's inspecting the ventilation system for leaks or flushing the condensate drains, we won't rush over any task. Do not overlook the importance of getting your unit maintained by an expert.
Benefits of Preventative Heating Maintenance:
✓ Enhanced indoor comfort
✓ Fewer heating disruptions
✓ More manageable utility bills
✓ Reduced carbon footprint
You will also be pleased to learn that our technicians won't leave your home in a mess. We strive to always keep a tidy working site. Our technicians will treat your home and equipment as if they were our own.
If you live in the Chicago area and you need to improve the performance of your heater, our team at Browns Heating & Cooling will offer proper HVAC maintenance. We are fully determined to ascertain that your comfort demands are met. Our team knows the importance of your heating system when it comes to guaranteeing your family's indoor well-being. We will ensure that your equipment operates safely, reliably, durably, and optimally. Trust us to always get the job done correctly.
Our friendly staff is ready to schedule a maintenance appointment with you. Please call us as soon as possible.
Are you looking for something else other than heating maintenance? Our business also provides heating repairs, installations, and AC maintenance solutions.